About 150 million hot dogs are consumed every Independence Day, and I am certain we Chicagoans do our fair share to keep this robust number trending upward. However, while wieners may be the soup du jour for many Americans, you would be as wise as Benjamin Franklin himself to mix in some shrimp on that barbie. Here's a glimpse into seasonal openings as the summer officially gets underway…
Red is for the bright red Sockeye Salmon that are spilling into the market. Fish from Bristol Bay, Prince William Sound and Kodiak are readily available. Troll and Gill Net Kings and Yukon Keta are also available, and costs are finally coming down since the Copper River bust. Look for Wild Salmon to be on the menu for the next couple of months, the summer salmon run is on.
Red Drum from family-run company Copper Shoals is a wonderful farm raised fish that you should definitely try. These fish are grown in outdoor salt ponds and fed a natural diet. From grow-out to harvest, they are managed with diligent care and attention to quality, creating a fish that tastes clean and briny, just how nature intended. They are shipped to order, giving you the freshest product possible.
Looking for something white and flaky? Try feasting on some Wild Striped Bass, Grouper, or California White Sea Bass. The Rhode Island Striped Bass season is underway, and the Massachusetts Striped Bass season started over the weekend. Both fisheries offer beautiful, big fish that are hook and line caught. Florida is producing gorgeous Red Grouper and an assortment of other Grouper species such as Snowy, Scamp, and Kitty Mitchell. As long as the storms keep away, the Grouper train will stay on the tracks. Also, don't miss out on the California White Bass. The season just started and we will have about 3-4 weeks of good supply. All of these species offer a white, large flaked meat with good fat and excellent flavor.
Some interruptions in supply can easily give you the blues but hang in there. Black Bass quotas were reached a week early in Rhode Island, but the fishery will reopen on July 1st. Until then, this species will be difficult to source because the Massachusetts and New Jersey areas are closed, and the Southern states are not producing much. Mahi is on the down slope of it's seasonality. Ecuador fishing has been poor, and other countries are slowly trickling fish into the market. Expect prices to be on the high side until the fall. Fluke continues to be hard to source as quota cuts in Massachusetts and Rhode Island keep product tight. This will ease up in a few weeks. In the meantime, try California Halibut and Dab Sole as alternatives.
On the bright side, we should start to see more Bluefish in the coming weeks. These fish are usually caught with Striped Bass and are targeted as they come closer to the shore to feed. Hook-and-line fresh Bluefish is one of the most underappreciated fish in the sea. The bold, rich flavor goes great on a smoky grill or cooks up nice in a mustard vinaigrette. The best part: because they are undervalued, they are usually inexpensive. There will be many who stuff their faces with as many hotdogs as will fit, but I am going to enjoy Independence Day like a true Patriot, appreciating the great Red, White, and Blue.
Gourmet Grab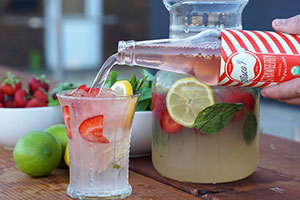 Whether you're grilling up encased meats or getting some beautiful grill marks on some crustaceans, there's no better way to wash it all down than some refreshing organic sodas and sparkling waters. Enter Wisco Pop!
Wisco Pop! is a small, artisan beverage company based out of Viroqua, Wisconsin, that has refined a line of organic sodas and bubbly, sparkling waters for your sipping pleasure. With their passion for the local food movement, they've come out with seven products that can be enjoyed at any summer get-together.
Amongst their soda line, they sport a full-bodied Strawberry variety, a zesty Ginger variety, as well as a Dr. Pepper-style Cherry variety. Their newest offering is a ruby red Grapefruit variety that will surely please the palette of any citrus lover. All are made with organic cane sugar and are certified organic, through and through.
As for their unsweetened "Sparkle" line, they offer lemon, lime, and ginger flavors for those of us looking to avoid the sugar and calories. Freshly-squeezed, you get the effervescent essence of all three flavors.
Appropriately priced and made locally here in the Midwest, this is a perfect line to pair with a savory meal or sip on its lonesome. Check out Wisco Pop's cocktail creations to give you some ideas on how to infuse some alcohol into their beverage offerings:
http://www.wiscopopsoda.com/poptails/