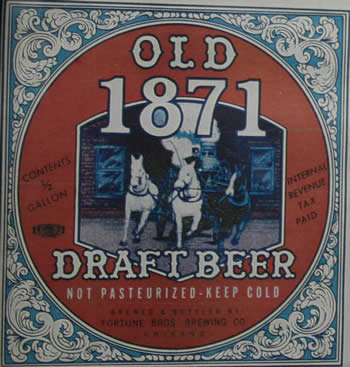 Fortune Fish & Gourmet was founded in June of 2001 by Sean O'Scannlain. Fortune Fish is named after Fortune Brothers Brewing Company, a Chicago Based Brewery founded in 1866 by Peter Fortune, ancestor to Fortune's President and CEO Sean O'Scannlain.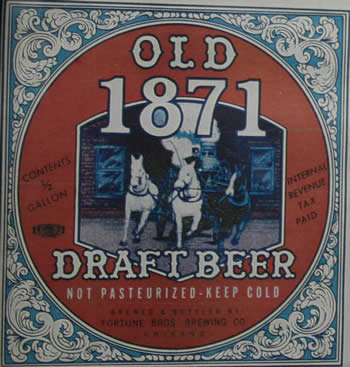 Sean started his seafood career at the now defunct Chicago Fish House, which at its peak was the nation's largest seafood distributor. Sean left the Chicago Fish House in 1995 to join the Plitt Company, which at the time was a small Chicago area shellfish distributor. With Sean as the company's President, Plitt grew to gross in excess of $50 million per year and serviced five states. In 2001, Sean left The Plitt Company to start Fortune Fish & Gourmet with a vision to become the Midwest's leading seafood and specialty food distributor and offer the best variety, service and freshness in the business.
To build the Fortune Fish & Gourmet, Sean brought with him several key team members for his new venture. Wally Lezniak, Fortune's production manager, worked with Sean at both the Chicago Fish House and The Plitt Company. Wally was an integral part of the success at the Plitt Company and brings an unparalleled level of dedication to quality and customer satisfaction at Fortune today.
Danielle Charette, Fortune's Vice President of Sales, worked with Sean at the Plitt Company as a top salesperson. At Fortune, she proudly leads a team of 30 salespeople and is the driving force behind Fortune's tremendous growth.

Suad Tanovic started at the Plitt Company as a receiver in 1996. Suad left Plitt with Sean to become the frozen buyer for Fortune. Today, Suad manages Fortune's constantly growing truck fleet, safety and sanitation compliance and Fortune's extensive, rapidly shifting inventory.

Dominick Gattuso, Fortune's CFO, left his position as controller for W.W Grainger to help start Fortune Fish & Gourmet, and has been key in establishing Fortune's strong financial record today.

In 2006, Mark Palicki left a career in the restaurant industry to join Fortune as the Vice President of Marketing, and has built a marketing department that provides invaluable information and support to our customers every week. In the beginning of 2018, Mark was promoted to President of Fortune Fish & Gourmet and oversees all processing and distribution. He also visits seafood conferences around the world to participate in industry dialouge and ensure Fortune is on the forefront of safety, sanitation and sustainability.

In 2010, Jon Rezny joined Fortune as Vice President of Purchasing, bringing years of seafood purchasing experience and supplier relationships to further distinguish Fortune's offerings in the marketplace. Fortune's management team brings a combined total of over 100 years experience in the seafood industry to Fortune Fish Company.
In 2012, Fortune Fish & Gourmet expanded the gourmet division with the strategic acquisition, a segregated distribution facility and a strong team committed to hand- selecting outstanding foods from the finest producers in the world.
In order to expand distribution further into the Midwest, Fortune Fish & Gourmet acquired Coastal Seafoods of Minnesota in 2016. Established in 1981, Suzanne Weinstein built Coastal Seafoods into a premier seafood wholesale business including retail stores in St. Paul and Minneapolis.
In early 2019 Fortune Fish & Gourmet aquired Morey's Seafood in St. Louis and Kansas City, Missouri. This aquisition has allowed Fortune Fish & Gourmet to enhance and expand service to the Missouri market. Customers will now be able to order more frequently and receive orders quicker with local warehouses.
June, 2019 brought the aquisition of Classic Provisions in Minnesota, greater expanding Fortune Fish & Gourmet Minnesota's offering to their customers. Classic Provisions holds many of the same customer service values as Fortune Fish & Gourmet, making this acquisition perfect for both customers and employees.
July, 2019 continued Fortune Fish & Gourmet's expansion with the acquisition of Jubilee Seafoods in Bayou La Batre, Alabama. This extends Fortune's reach from the Canadian border to the Gulf of Mexico. Patrick Kraver, the son of Jubilee Seafoods founder Walter Kraver, Sr., joined the Fortune Fish & Gourmet family as Vice President and General Manager of Fortune Fish & Gourmet Gulf States.
Fortune started off 2020 by acquiring the Kansas City division of Seattle Seafood in January. This expansion was particularly exciting as this came with a new warehouse and processing facility to be able to serve the Missouri market even better.
In March, 2020, Fortune brought a stronger presence to Missouri with the purchase of Eurogourmet, Inc. This acquisition further increases the gourmet portfolio, particularly pastry and bakery ingredients.
Prior to Thanksgiving in November of 2020, Fortune acquired Neesvig's, Inc., a Wisconsin based seafood, meat processor and distributor. This acquisition also includes retail store Empire Fish and a state of the art fulfillment operation in DeForest, Wisconsin.
Fortune Fish & Gourmet continues to expand to fit the needs of the customers.