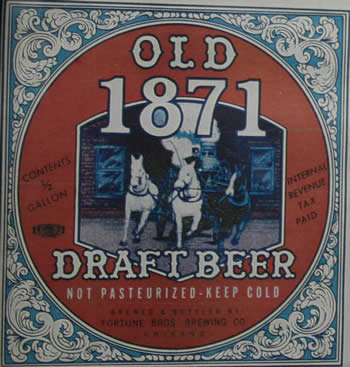 Fortune Fish & Gourmet was founded in June of 2001 by Sean O'Scannlain. Fortune Fish is named after Fortune Brothers Brewing Company, a Chicago Based Brewery founded in 1866 by Peter Fortune, ancestor to Fortune's President and CEO Sean O'Scannlain.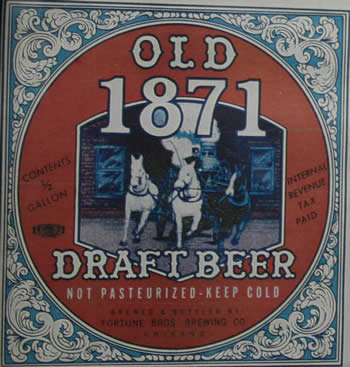 Sean started his seafood career at the now defunct Chicago Fish House, which at its peak was the nation's largest seafood distributor. Sean left the Chicago Fish House in 1995 to join the Plitt Company, which at the time was a small Chicago area shellfish distributor. With Sean as the company's President, Plitt grew to gross in excess of $50 million per year and serviced five states. In 2001, Sean left The Plitt Company to start Fortune Fish & Gourmet with a vision to become the Midwest's leading seafood and specialty food distributor and offer the best variety, service and freshness in the business.
To build the Fortune Fish & Gourmet, Sean brought with him several key team members for his new venture. Fortune's management team brings a combined total of over 100 years experience in the seafood industry to Fortune Fish Company.
In 2012, Fortune Fish & Gourmet expanded the gourmet division with the strategic acquisition of JDY Gourmet, then segregating the distribution facility and adding a strong team committed to hand- selecting outstanding foods from the finest producers in the world.
To expand distribution further into the Midwest, Fortune Fish & Gourmet acquired Coastal Seafoods of Minnesota in 2016. Established in 1981, Suzanne Weinstein built Coastal Seafoods into a premier seafood wholesale business including retail stores in St. Paul and Minneapolis.
In early 2019 Fortune Fish & Gourmet acquired Morey's Seafood in St. Louis and Kansas City, Missouri. This acquisition has allowed Fortune Fish & Gourmet to enhance and expand service to the Missouri market. Customers are now able to order more frequently and receive orders quicker with local warehouses.
June, 2019 brought the acquisition of Classic Provisions in Minnesota, greater expanding Fortune Fish & Gourmet's specialty foods portfolio. Classic Provisions held many of the same customer service values as Fortune Fish & Gourmet, making this acquisition perfect for both customers and employees.
July, 2019 continued Fortune Fish & Gourmet's expansion with the acquisition of Jubilee Seafoods in Bayou La Batre, Alabama. This extended Fortune's reach from the Canadian border to the Gulf of Mexico.
Fortune started off 2020 by acquiring the Kansas City division of Seattle Fish Company in January. This expansion was particularly exciting as this came with a brand new warehouse and processing facility to be able to serve the Missouri market even better.
In March, 2020, Fortune brought a stronger presence to Missouri with the purchase of Eurogourmet, Inc. This acquisition further increased the gourmet portfolio, particularly pastry and bakery ingredients.
Prior to Thanksgiving in November of 2020, Fortune acquired Neesvig's, Inc., a Windsor, Wisconsin based seafood, meat processor and distributor. This acquisition also included retail store Empire Fish and a state-of-the-art fulfillment operation in DeForest, Wisconsin.
In August of 2021, Fortune Fish & Gourmet acquired CCT Logistics, Inc. positioning Fortune to better service the Gulf States and provided additional logistical support and cold storage capacity for the entire Fortune network.
Shortly after the acquisition of CCT, Fortune purchased Meat Processors Inc. of Green Bay, Wisconsin to better service the upper Midwest with expanded distribution.
After Christmas of 2021, Fortune acquired Ocean Harvest Wholesale Inc., a Houston, Texas and Delcambre, Louisiana based, seafood and shrimp processor and distributor. This addition gives Fortune direct access into Houston and other thriving major cities in Texas while gaining logistic efficiencies through all the states Fortune serves along the Gulf Coast. The shrimp processing facility increases Fortune's shrimp processing capabilities and adds additional brands to the portfolio.
A few months after the acquisition of Ocean Harvest Wholesale Inc, Fortune purchased D'Artagnan, Inc., in March 2022, a leader in popularizing the sustainable "farm to table" movement over last 35 years and purveyor of free-range meat and all-natural organic poultry, game, foie gras, mushrooms and truffles to the United States' most renowned restaurants and retailers. This acquisition expands the Fortune's geographic footprint into D'Artagnan's markets, as well as adds new relationships with leading retailers. In addition, the acquisition provides an opportunity for Fortune to offer new products to consumers directly as part of D'Artagnan's successful and fast-growing e-commerce business.
Fortune Fish & Gourmet continues to expand to fit the needs of the customers.