Our Fleet
Fortune's fleet of refrigerated trucks covers Illinois, Wisconsin, Missouri, Iowa, Indiana, Kansas, Michigan, Minnesota, Alabama, Florida, Mississippi, Arkansas, Nebraska and Louisiana. Call for specific delivery days and locations!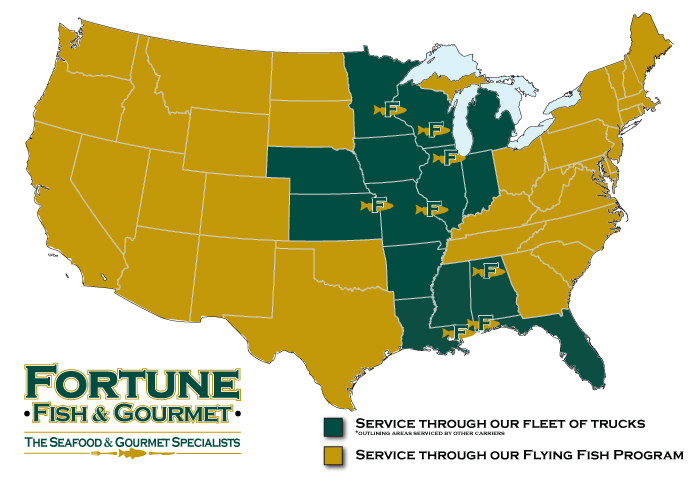 Our Delivery Schedule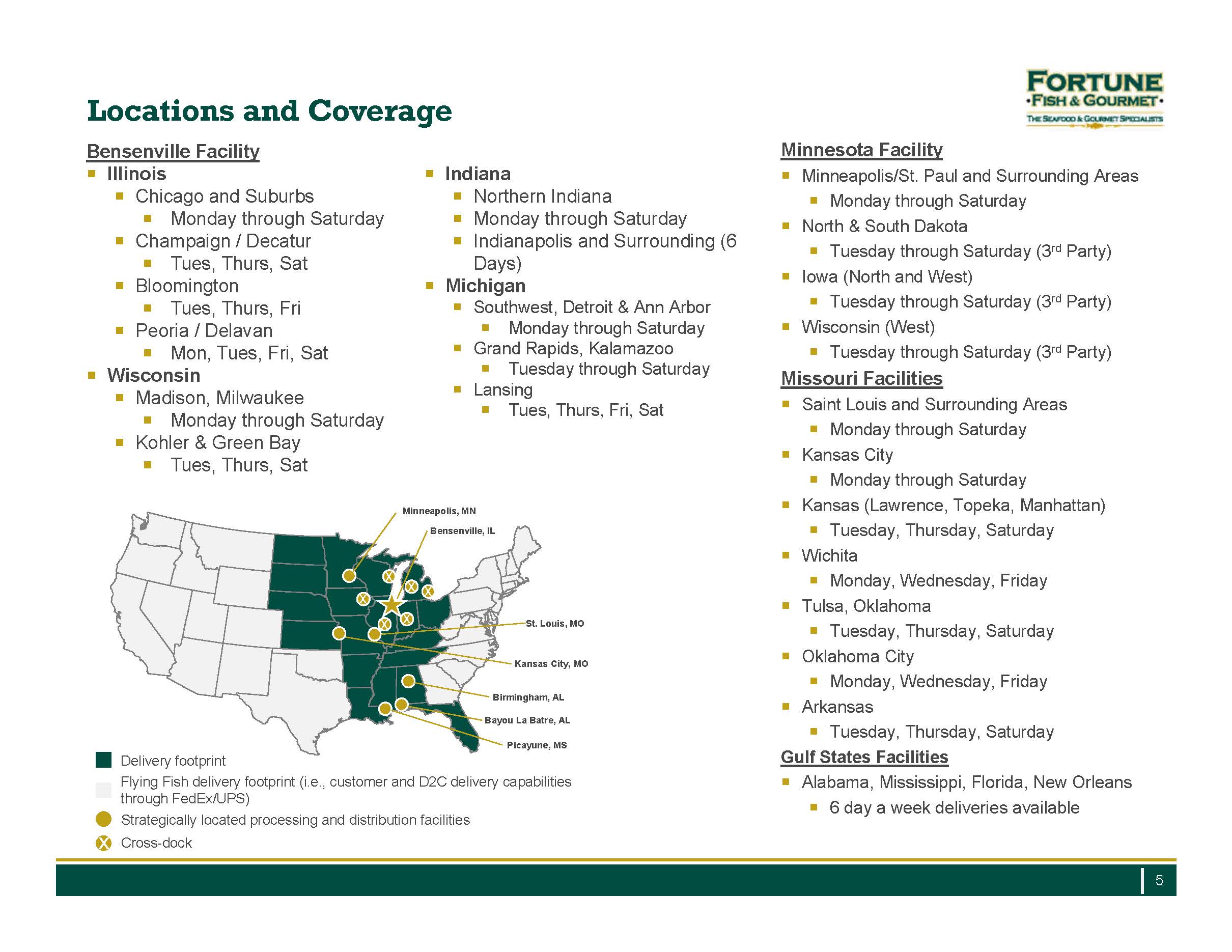 Flying Fish Program
The the nation's top Chefs use Fortune, because of our vast selection of seafood from all over the world, our attention to detail, and our unparalleled customer service. Fortune Fish & Gourmet's headquarters located minutes from O'Hare International Airport's cargo dock. We are able to make numerous trips a day to and from the airport to pick-up today's freshest catch. Your fish will get checked for quality, processed and packaged basically during a short lay-over. Being as close as we are to O'Hare Airport, is like being at all the major fishing ports in the world.
Fortune's Retail Partners
All Grass Farms
The Apple Mart
August Food and Wine
Beautiful Rin
Bizio's Fresh Market
Blue Goose Market
Brookhaven Market
Burhop's
Busch's Fresh Market
Casey's Foods
Casey's Market
Cellar 406
Choice Natural Food Market
City Olive
Common Ground
Coastal Seafoods
Dill Pickle Coop
Dirk's Fish
Eataly
Fahlstrom's Fresh Fish Market
Flagship
Food Smart
Food Stuffs
Foxtrot
Fresh Farms
The Fresh Market
Gepperth's Market
Goddess & Grocer
Goose The Market
Grand Food Center Inc
Green Grocer
Harvest Market
Harvestime Foods
Heinen's
Hyde Park Produce
Inboden's Meat Ltd.
Jungle Jim's
Lakeside Foods
Marcel's Culinary Experience
Market District
Market Place on Oakton
Mar's Cheese Castle
Meijer
Metcalfe's
Mike's Market
Mitchells Fish Market
Monahan's Seafood
New Chelsea Market
Oh Mamma's on the Avenue
Olivia's Market
Open Produce
Outpost Natural Foods
Paulina Meat Market
Peapod
Pete's Fresh Market
Plum Market
Potash
Purple Porch Coop
Riverside Foods
River Valley Farmer's Table
Robert's Seafood Market
Rushing Waters Fisheries
Sawyer Garden Center
Schaefer's Wine
Seafood Center
Sendik's
Standard Market
Straub's
Sunset Foods
Tischler's Market
Valli Produce
Vinic Wine
Visconti Cheese Market
Westborn Market
Willy St. Coop
Woodlake Market
Whole Foods
Zier's Prime Meats
Zingermans's