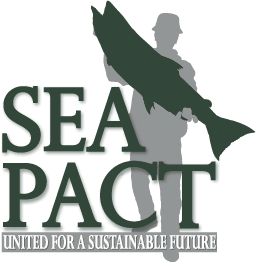 Fortune Fish & Gourmet is a proud founding member of Sea Pact, an alliance formed between six of the leading, like-minded Seafood Distributors in North America. This unprecedented alliance is a first of its kind in the seafood industry. Sea Pact has a goal of making their seafood industry a more sustainable & eco-friendly one. Fortune joined with North American seafood suppliers; Intercity Packers Meat & Seafood, Ipswich Shellfish Group, Santa Monica Seafood, Seacore Seafood and Seattle Fish Co. to form Sea Pact. Since inception, Sea Pact has added member companies Euclid Fish Company, Inland Seafood, J.J. McDonnell, North Atlantic Inc, and Stavis Seafoods. These seafood industry leaders strive to advance environmentally sustainable fisheries and aquaculture practices and provide the building blocks of a long term, sustainable seafood industry by financially contributing to improve the systems from which they procure.
The seafood industry can be a powerful force for improving the environmental sustainability of seafood and ocean ecosystems, particularly when efforts are coordinated to best leverage buying power for positive change. Through pooling resources and knowledge to promote fisheries and aquaculture improvements, Sea Pact is able to sponsor improvement projects that may otherwise be too large in scope to support as individual companies.
The members of Sea Pact are like-minded companies from the U.S. and Canada with progressive sustainability commitments. Sea Pact receives fiscal sponsorship from nonprofit Multiplier and sustainability counsel from non-profit organizations FishWise, Ocean Outcomes and Sustainable Fisheries Partnership (SFP). To learn more about Sea Pact visit the website.