Copper at the Cost of Gold
When Alaskan Natives and Russian settlers were first harvesting the rich copper deposits situated in the upper river that bears the mineral's namesake, I guarantee neither imagined that the most precious and profitable resource that would come from this abounding part of the world would not be a mineral. Instead, it would become the Wild Salmon, with their voracious runs that generate the most enthusiasm and cache. Today, the Copper River Salmon ignite the torches that signify the beginning of the summer Salmon runs. These fish of purpose are the harbingers of spring, and with their passing a multitude of rivers follow, supplying the world with beloved orange-fleshed nourishment. If the first residents had foreseen any of this, the river may have gone by a different name.

Copper River Salmon typically garner the highest dock prices of any of the Salmon runs, which may deter some from pulling the trigger on buying. Don't fret though; if you wish to wait out the Copper River fish for the later, more affordable runs, Arctic Char makes an excellent stopgap. Arctic Char cuts out a sweet orange color and the flavor is milder than regular Salmon with a clean, fatty texture.

Staying in the orange, the farmed Salmon market is on the rise due to strikes in Argentina, Norwegian holidays, and looming Chilean algal blooms. Everything considered, the market could remain strong for a few months. Currently, there are also sizing issues with farmed Organic Salmon due to cooler than usual water temperatures. Fish grow slower in colder water, meaning the next few harvests will be undersized. Keep an eye on your farmed Salmon solutions.

Mahi may be on the run in Ecuador, but the first domestic fish have started to show up down in Florida. The domestic Mahi are shipped head on and they arrive just a couple of days out of the water. Domestic fish sizes are usually a little smaller than the Ecuadorian fish, but the flesh is always spectacular, with bright bloodlines and fluorescent yellow skin.

Mom's just had their day – though I think mothers should be celebrated every day – and that means Father's Day is just around the corner. In the Midwest, there's no better way to celebrate with your father than by sitting down to a plate full of freshly caught Walleye Pike. Considered a nostalgic delicacy for most Midwesterners, Walleye is a way to bridge the gap between generations while sating the craving for light, delicious dining on hot days. Supplies of Walleye and Lake Perch are good and should last through Father's Day.

The Fluke market has taken a bit of a dive since Virginia closed, and with North Carolina winding down, we could see some gaps in the supply chain. The waters just aren't warming up fast enough farther North, so I would look to supplement with other species of flat fish such as California Halibut, Pacific Halibut, and Plaice (Dabs).
And, finally, the Softshell Crab Season is here! Crabbing is in full production and all sizes are available. Crabs are coming mostly out of Virginia right now and the shedders are busy. Spring Storms could cause some disruption, as with all wild product, but it is safe to say that, for the most part, there will be crabs available and pricing will begin to come down in the coming weeks.
Gourmet Grab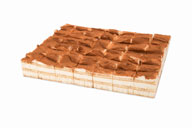 On the lookout for high-quality, flash-frozen, king-sized dessert cakes for that upcoming summer event? Look no further than
Chousa
dessert cakes from Galicia, in northwestern Spain. Coming in six varieties ranging from the ever-popular Tiramisu, to the decadent German-style Black Forest Cake, to the traditional Spanish Tarta de Almendra ("almond tart"), these crafted dessert cakes are ideal for retail and foodservice accounts alike.
All cakes are flash frozen and can be defrosted in refrigeration to ensure cake integrity and flavor. Four of our six offerings (specifically the Tiramisu, Black Forest Cake, San Marcos Cake, and Cookies 'n Cream Cake) are also divided into 21 pre-cut portions to help optimize costs and yield from each cake. These portions are cut using a high-tech, water jet machine that helps ensure continuity in size and overall appearance.
These artisan dessert offerings are ideal for any customer looking to save on the cost and labor of dessert production, without sacrificing quality. Country clubs, catering companies, and special event requests are ideal venues for these dessert cakes that will surely captivate your taste buds.
Copper River Image above compliments of CRPWSMA