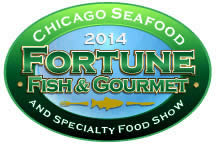 Chicago Seafood and Specialty Food Show 2014
Tuesday September 16, 2014
10 am to 6 pm at the Grand Ballroom of Chicago's Navy Pier
#FFGShow2014
During the show, you will have the opportunity to taste and learn from over 140 of the finest Seafood and Specialty Food Companies from the U.S. and around the world (Please see below for the current list of companies). You will also have the opportunity to work with your hands and minds during interactive contests and breakout sessions. All contests and breakout sessions will take place during the show. Please see below for the schedule and list of all breakout sessions and contests.
---
FREE ADMISSION & VALET TO ALL OF OUR CUSTOMERS & CULINARY STUDENTS
---
Click Here to RSVP and Sign-up for Contest and Breakout Sessions
---
SCHEDULE OF EVENTS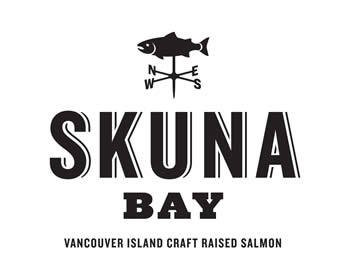 SALMON FILLET CONTEST
Sponsored by Skuna Bay Salmon - All Day at Booth 419
The Chef with the best yield filleting one fish, gets an all expense paid trip to visit the Skuna Bay farms, hatchery and processing facility on Vancouver Island B.C. We are also able to squeeze in some fishing on the Gold River with the guides from the beautiful lodge you get to stay in.
---
GROWING GREAT CHOCOLATE WITH CALLEBAUT
Sponsored by Barry Callebaut - 11 AM
Learn the art of chocolate from Chef Emma Afshin, Barry Callebaut Technical Advisor. The chef will visit both the savory and sweet sides of Mycryo (cocoa butter) searing scallops, then tempering chocolate and creating chocolate treats.
---
FOLLOW THAT FOIE GRAS...MOULARD DUCK EVISCERATION
Sponsored by La Belle Farms - 12 pm
Bob Ambrose from La Belle Foie Gras will break down a duck remove the Foie Gras and give an in-depth seminar on how Foie Gras is produced, what to look for and how to clean it properly.
---
SALT, CULTURES AND MOLD: AN ARTISAN TRADITION
Sponsored by Creminelli Fine Meats - 12:30 pm
Cristiano Creminelli who comes from a family of artisian meat producers dating back to the 1600s, presents us with the artisan skill of Chacuterie.
---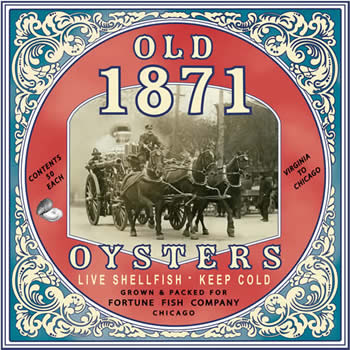 OLD 1871 OYSTER SHUCKING COMPETITION
Sponsored by: Ballard Fish & Oyster - 1:00 pm (Main Stage)
Be the fastest shucking 12 oysters and win a trip to visit the OLD 1871 farms and processing facility in Virginia.
---
PLANT SEX - THE FLOWERS AND THE BEES
Sponsored by Ames Honey Farm - 1:30 pm
Brian Fredericksen coaxes flavors from nature that the rest of us modern humans don't know are there. He was once a 3M research engineer, with many patents to his credit. One day he decided the point of life was to know the world outside a cubicle. He started Ames Farm, a grand experiment dedicated to bottling raw, local honey in tiny batches.
---
SUSTAINABLE AQUACULTURE PANEL
Sponsored by the Soy Aquaculture Alliance - 2:00 pm
Monitored By: Michelle Parker, Vice Preseident, Great Lakes & Sustainability, John G. Shedd Aquarium
Featuring: Dr. Steven Hart Executive Director, Soy Aquaculture Alliance; Jamees Diana Ph.D., Professor and Director, Michigan Sea Grant; Norman McCowan, President/CEO Bell Aquaculture; Dr. Michael Rubino, Director of teh Office of Aquaculture, NOAA; John Connelly, President, National Fisheries Institute
Aquaculture is a hot button topic in the sustainable seafood world, but in the Midwest, sustainable aquaculture is all around and provide some of the most delicious fish you can get locally! This panel will feature representatives from all aspects of the aquaculture community and discuss what makes aquaculture sustainable, what's on the horizon for advancements in aquaculture, and tackle the big issues facing this growing industry.
---
SUSTAINABILITY WITH A LITTLE HELP FROM YOUR COMMUNITY PANEL
Sponsored by the John G. Shedd Aquarium - 2:45 pm
Monitored By: Aislinn Gauchay, Manager of Great Lakes & Sustainability, John G. Shedd Aquarium
Featuring: Paul Fehribach, Executive Chef/Owner, Big Jones (Right Bite Partner); Justin Hall, Head Chef/Owner, FIG Catering (Right Bite Partner, Slow Food Chicago "Snail of Approval" Recipient); Sarah Hidder, Development Associate, Green Chicago Restaurant Coalition; Jessica Redmayne, Sourcing Manager, Fish Choice; Jeanine Wise, Treasurer, Slow Food Chicago Board of Directors, Sous Chef, Eataly
Members of Chicago's world class culinary community alongside representatives from the sustainable food nonprofit sector unpack the benefits of running a sustainable culinary enterprise and the resources available to help you do it! Sustainable practices and menus can not only be achieved with help and support from your community, but they can also help tell your story and drive benefits! You'll leave this panel with easy to use tools, resources and contacts to help you take the next step in greening and growing your operations.
---
THE LOBSTER ACADEMY SEMINAR & CONTEST
Guest Speaker Dr. Robert Bayer, Acadmic Dean / Executive Director The Lobster Academy - 3:30 pm
Dr. Bayer has been involved in lobster research for over 20 years and since 1995 has been Executive Director of the Lobster Institute, located on the campus of the University of Maine. His primary interests are in the areas of lobster nutrition, management and pathology. He obtained his B.S. in 1966 and his M.S. in 1968 from the University of Vermont, and his Ph.D. in 1972 from Michigan State University.
Dr. Bayer has provided outreach services to lobster-related businesses - including pound owners, processors, and distributors, received the University of Maine's Presidential Public Service Award in 1988, and became executive director of the Lobster Institute in 1995. In addition he was a primary consultant to the Long Island Sound lobstermen following the catastrophic die-off of lobster stocks there in 1999 and he initiated the Lobster Institute's annual Canadian/U.S. Lobstermen's Town Meeting in 2004.
WINNER - All expenses paid trip to the Lobster and Salmon Academy hosted on the World Famous Bay of Fundy in New Brunswick, Canada 2015
---
TASTING EXPERIENCE WITH CALVISIUS CAVIAR
Sponsored by Calvisius Caviar - 4:30 pm
Learn what makes a good caviar and drink some fantastic champagne........
---
SHOW GIVE-AWAYS
Old 1871 Oyster Shucking Knife - Old 1871 Oysters Booth
Fortune Seafood Storage & Receiving Poster - Urner Barry Booth
Fortune Fish & Gourmet T-Shirt - Check-In
Fortune Clip Boards, Pens and Post-it Cubes - Check-In
Oyster Poster - Fortune Fish & Gourmet Booth
The Cheese Wheel of Fortune - On the Balcony when entering Cheese, Chacuterie and Accompaniments
Fortune Gourmet Cheese Jourmal - 33 Books Booth
Dexter Fisherman Flex Fillet Knife - All Skuna Bay Salmon Fillet Contest Competitors
---
EXHIBITORS