MINERAL POINT, WISCONSIN
College sweethearts Tony and Julie Hook started Hook's Cheese Co. in 1976, producing just two cheeses, cheddar and Swiss. In 1982, Julie Hook became the first (and still only) woman to win first overall at the World Cheese Championship. Today, Hook's makes over 50 cheese varieties. Despite their growth and success, the company buys milk from the same small group of farmers they have worked with for over three decades and Tony & Julie still make weekly appearances at their county Farmer's Market.
Hook's Cheddars
The ultimate refinement of the classic American style Cheddar. We currently offer a range of aged cheddars, from the super sharp three-year, great for use on burgers and sandwiches, to the rare 15 year, a luxurious cheddar with pronounced calcium crystals, pleasing acidity, and all of the complexity of a well aged wine. Hook's 3 year Cheddar was the 2015 ACS 3rd place winner in the Mature Cheddar category.
Pasteurized Cow's Milk · Semi-Firm · Log · 5 lb.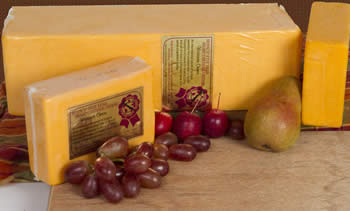 Q0500390 · Mild Cheddar · Yellow
Q0500150 · 1 Year Cheddar · Yellow
Q0500160 · 3 Year Cheddar ·

Yellow
Q0500170 · 4 Year Cheddar · White
Q0500190 · 5 Year Cheddar

·

Yellow
Q0500200 · 6 Year Cheddar · White
Q0500220 · 7 Year Cheddar · Yellow
Q0500230 · 8 Year Cheddar · White
Q0500250 · 10 Year Cheddar ·

Yellow
Q0500280 · 12 Year Cheddar · White
Q0500310 · 15 Year Cheddar · Holiday Season Only

·

Yellow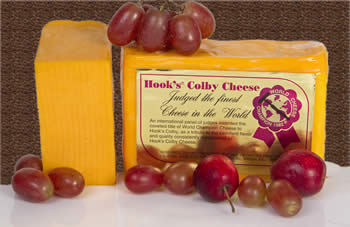 Q0500380 · Horseradish Cheddar
Q0500405 · Truffle Cheddar

·

8 oz.
Q0500460 · World Champion Colby
Hook's Blues
Hook's began producing blue cheeses in 1997 with its Original Blue, a cheese which raised the bar for dense, creamy blues in America. Since then they have continued to introduce new, award winning variations, including the double cream Blue Paradise and the extra-stinky, washed rind Tilston Point.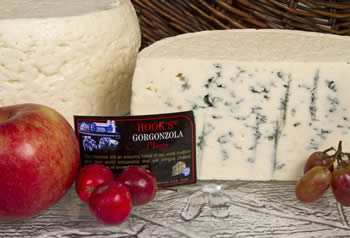 Pasteurized Cow's Milk · Semi-Firm · Wheel · 6 lb.
Q0500145 · Ewe Calf to be Kidding · Cow, Goat and Sheep's Milk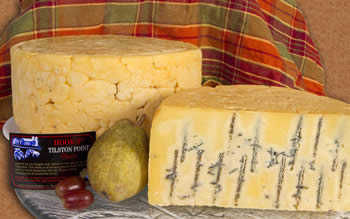 * ACS 2015 3rd place winner
Q0500140 · Little Boy Blue · Sheep's Milk
Q0500020 · Barneveld Blue · Pasteurized Goat's Milk
* ACS 2015 2nd place winner
Hook's triple play
This unique blend of cow, sheep and goat milk has flavors of Baby Swiss, Havarti and Gouda.
Q0501000 · Triple Play
* ACS 2015 3rd place winner
More Hook's Cheeses Available for Pre-Order including: