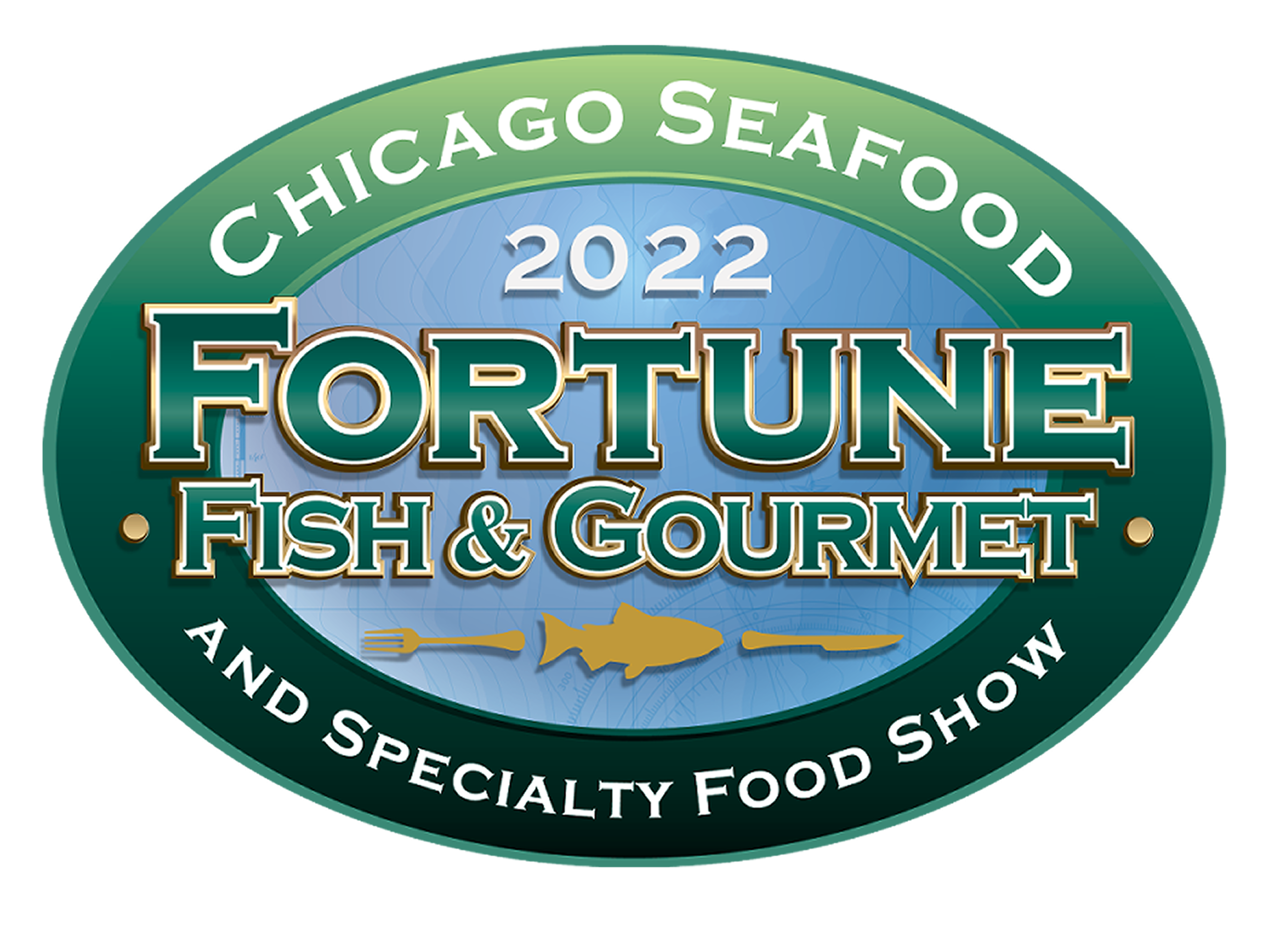 10am to 5pm at the McCormick Place Lakeside Center, Hall D2
#Fortuneshow
Fortune Fish & Gourmet invites you to the 2022 Chicago Seafood and Specialty Food Show on Tuesday, August 2nd at the McCormick Place Lakeside Center. Come join us anytime from 10am to 5pm for cocktails and to sample products from over 300 fishermen, growers and artisan producers of the finest seafood and specialty food purveyors.
Free Admission, Discount Lyft Rides, and Complimentary Validated Parking for Customers, Culinary Students, Media, and Hospitality Professionals
Click Here to RSVP and Sign-up for Contests
During the show, you will also have the opportunity to work with your hands and minds during interactive contests. All contests will take place during the show. View the full schedule of events below.
SCHEDULE OF EVENTS
THE CHEESE CHALLENGE
10:00am to 4:00pm
Step right up and test your cheese expertise with a visual cheese identification, a "good old fashioned" guess the weight of the cheese, and curd count. Prizes galore!
1st Place - 2023 ASC Registration (only) in Des Moines, Iowa
2nd Place - $250 Fortune Fish & Gourmet gift card
3rd Place - $100 Fortune Fish & Gourmet gift card
Everyone who participates will be registered for a raffle for Dairy Farmers of Wisconsin swag
DON'T STOP AT GLAZE
Sponsored by Paris Gourmet - 11:00am to 11:50am
Learn all about Pastry 1's Cristal Neutral Glaze as Chef Eric Bertoia demonstrates how the glaze can be used for multiple items, including chocolate ganache for tarts, vegan chocolates, fondant for choux puffs, and the list goes on!
NIMAN RANCH HOG DEMONSTRATION
Sponsored by Niman Ranch - 12:00pm to 1:00pm
Jim Magolski, Ph.D., meat scientist and pork quality expert from Niman Ranch will be performing a half-hog carcass breakdown to showcase the specific cuts of the premium Certified Humane Niman Ranch pork. Dr. Magolski will also help identify certain attributes and points of differentiation throughout the presentation to highlight what makes Niman Ranch pork the Finest Tasting Meat in the World™.

O'SCANNY OYSTER SHUCKING COMPETITION QUALIFIERS
Sponsored by Plymouth Rock Oyster Growers - 1:00pm to 2:00pm
Six of the fastest shuckers will qualify for the finals at 2:30pm
(REGISTER ONLINE FOR THE CONTEST WHEN YOU RSVP FOR THE SHOW)
O'SCANNY OYSTER SHUCKING COMPETITION FINALS
Sponsored by Plymouth Rock Oyster Growers - 2:30pm
Be the fastest to shuck 12 oysters and win a trip to visit the farm and processing facility in Plymouth, Massachusetts, where the O'Scanny oysters are produced.
MOULARD DUCK BREAKDOWN WITH FOIE GRAS REVEAL & SAMPLING
Sponsored by D'Artagnan - 3:30pm - 4:00pm
Come watch Ariane Daguin, founder of D'Artagnan and pioneer in the humane farming movement, breakdown of a Moulard Duck, revealing the Foie Gras.
DECONSTRUCTING THE PACIFIC BLUEFIN TUNA
Sponsored by Bluefina - 4:00 pm
Learn the art of breaking down a whole majestic Pacific Bluefin Tuna.
Participants
| | |
| --- | --- |
| 3 Fish, Inc. | 3D Baking Company |
| 8 Track Foods | A & A Marine Foods |
| Aceitunas Losada S.L. | Acme Smoked Fish |
| Alexian Pate | Alta Langa |
| Ambrosi Food USA | American Tuna Inc. |
| Aqquua | AquaChile |
| Aqua Royale Foods, Inc. | Arena Cheese, Inc. |
| Arista Seafood | Ashman Manufacturing Co |
| Atalanta Corporation | Atlantic Aqua Farms |
| Barry Callebaut | Beacon Fisheries |
| Beehive Cheese | BelGioioso Cheese |
| Bella Bella Gourmet (LaBelle Farm) | Big Fork Brands |
| Bindi | BLiS Gourmet |
| Blue Ocean Mariculture | Bluefina |
| Boston Sword & Tuna | Brazilian Oven |
| Brooklyn Cured | Buf Creamery |
| Byrd International Crabmeat | Calvisius |
| Carr Valley Cheese Company, Inc. | Caruso Provisions Giardiniera |
| Catalan Gourmet | Chef Martin Old World Butcher Shop |
| Cherrystone Aqua-Farms | Chicago Johnny's |
| Clara's Kitchen | CleanFish |
| Cleveland Kitchen | Cobra Verde & Paleo Verde |
| Coco5 | Companion Kombucha |
| Consolidated Catfish | Conway Dressings |
| Crave Brothers Farmstead Cheese LLC | Culinary Collective |
| Cypress Grove | D & E Import (PrimoSeas Brand) |
| Dairy Farmers of Wisconsin | Dark Matter Coffee |
| D'Artagnan | Del Pacifico Seafoods |
| Delizie di Calabria | Despaña Brand Foods |
| deZaan Cocoa | Di Stefano Cheese |
| Divina | Door County Whitefish |
| Doral International Foods | drench Clean Dressings & Marinades |
| Driftless Provisions | Ducktrap River of Maine |
| Dutchland Classic Pastries | Effie's Homemade |
| Eight International | Elda's Kitchen Cooking & Grilling Sauces |
| Emmi Roth | Entrepinares |
| Epicurean Food & Beverages | Every Body Eat® |
| Farmers Hen House | Felicetti Pasta |
| Fermin | Ferndale Market Turkey |
| Field + Farmer (Element Pressed) | Foodlinks |
| Forever Cheese / Mitica | Fortune Imports |
| Four Star Artisan | Fra'Mani |
| Freshwater Fish | Fromi |
| Fruitbelt Tart Sparkling Tonics | Gifted Breads |
| Granola Factory | Great River Organic Milling |
| Handy Seafood | Heritage Pork International, Inc. |
| Hidden Springs Creamery | Hiddenfjord |
| Himalayan Momo | Hofseth LLC |
| Honestly Cranberry | Hook's Cheese |
| Hot Cakes Bakery | Indian As Apple Pie |
| InterSource Inc. | Irca (Dobla) |
| Jacobs and Brichford Farmstead Cheese | Joe Jurgielewicz & Son, Ltd. |
| John O Foods Inc | Kitchen Hub by Two Men and a Garden |
| La Espanola Meats, Inc | La Quercia |
| La Rose Noire | La Tourangelle |
| LaClare Creamery | Laura Chenel |
| Les vergers Boiron | Lillie's Q |
| Livia's Seasoning Salt | LocalFolks Foods |
| Lopaus Point | Lucky's Sauces |
| Lund's Fisheries | MacFarlane Pheasants, Inc. |
| Mad Mac Macarons | Maker to Monger |
| Mama Lil's Fine Condiments | Manicaretti Italian Food Importers |
| Marieke Gouda | Marin French |
| Master Martini | Matt's Cookie Company |
| Maytag Dairy Farms | Miller Poultry |
| Ming Hong International | Monte Nevado USA |
| Musco Food Corp. | Neesvig's |
| Nielsen-Massey Vanilla & Flavors | Niman Ranch |
| Nippon Shokken | Noon Hour Foods |
| Nordic Creamery | North American Bison LLC |
| Northern Soda Company | NSTA FOODS |
| Nueske's Applewood Smoked Meats | Old World Gluten-Free Pierogi |
| Olympia Provisions | O-Med Extra Virgin Olive Oil & Vinegars |
| Open Water | Orca Bay Foods, LLC |
| Ortiz | O'Scanny Oysters |
| Overseas Food | Paris Gourmet |
| Parmacotto | Pasta Pappone |
| PGI (Boston Chowda, Seafood Gourmet) | Phoenix Bean (Jenny's Tofu) |
| Piemonte Foods | Pike Market Naturals |
| Plymouth Rock Oysters | Point Reyes Farmstead Cheese |
| Potter's Crackers | Presteve |
| Qwackers Crackers | Ragin' Cajun & Cajun's Choice Foods |
| Rappahannock Oyster Company | Raspberry Point (Pink Moon) |
| Red Bear Provisions | REKKI |
| Roelli Cheese Co., Inc. | RP's Pasta Company |
| Rumi Spice | Rushing Waters |
| Rustic Bakery | Santa Teresa |
| Sartori Cheese | Savello USA, Inc. |
| Sea Delight, LLC | Sea Pact |
| Seafood and Gender Equality (SAGE) | Seatrade |
| Shucks Maine Lobster | Slade Gorton |
| Smoking Goose | Societa Agricola Acetomodena |
| Somerdale International | Source Atlantique |
| South Shore Seafoods | Southeast Seaproducts |
| St James Smokehouse Inc. | Sterling Caviar |
| Strompolos | Sugar & Spice Extraordinary Sweet Treats |
| Superior Fresh | Sweet Grass Dairy |
| Swoffle Dutch Stroopwafel Waffle Cookies | Taste Republic |
| TCHO Chocolate | Teapigs |
| Tempesta Artisan Salumi | Terlato Kitchen |
| Thaan Charcoal | The Better Fish |
| The Fine Cheese Co. | The Perfect Puree of Napa Valley |
| The Quince & Apple Company | The Santa Barbara Smokehouse |
| Top Note Mixers and Soda | Town Dock |
| Traiteur de Paris | Tribeca Oven Artisan Breads |
| True Fin | Tulip Tree Creamery |
| Twisted Olive LLC | United Olive Oil Import Corp. |
| Valsana | Van Lang Foods |
| Veggie Vita Pizza | Viuda De Cayo Sainz SL |
| WA Imports | Weiss Chocolate |
| WG Provisions | Wheeler Seafood |
| White Toque | Widmer's Cheese Cellars, Inc. |
| Wildwood Grilling | Woodland Foods |
| World Finer Foods | Zingerman's Creamery |