"Making the right choices for more choices"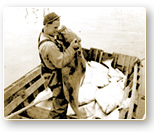 As leaders in the seafood industry, we find it our responsibility to provide, promote and market environmentally friendly wild fisheries and aquaculture.  The success and most importantly the future of our buisness depends on it.  We also make every effort to make our plant and offices as "green" as possible with energy conservation and recycling initiatives.
See the list to the left for more information on Sustainability at Fortune Fish.