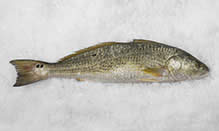 Th University of North Texas (UNT) received funding from Sea Pact for a research project utilizing probiotics (live microorganisms that benefit their host) as an alternative to antibiotics for improving growth rates and reducing mortality in marine finfish aquaculture. Trials are currently being conducted for yellowtail amberjack and red drum, but the findings and methods developed will certainly be applicable to other species of marine finfish important to aquaculture. To celebrate this Aquaculture Improvement Project, Red Drum will be Fortune Fish & Gourmet's Sustainability Initiative for the months of February and March. Fortune is proud to work with Ekstrom Enterprises to bring you Copper Shoals Red Drum, the very same red drum being used in this UNT study.
While growth rates can be high, mortality rates in some marine farmed fish species can be as high as 90% at the early stages, so just like in terrestrial agriculture broad spectrum antibiotics can been used to reduce the incidence of disease and mortality. There is strong evidence that the use of antibiotics can lead to the spread of antibiotic-resistant bacteria and public health concerns. Dr. Ione von Herbing, pHD, from UNT says that "our project to use a probiotic (good bacteria) approach to marine aquaculture will hopefully in the long-term provide a sustainable alternative to antibiotics, in order to protect human and animal health while providing a safe and economical global fish supply."
Copper Shoals Red Drum is a marine red drum farm-raised in Texas on two family owned and operated inland farms. The marine red drum is commonly known as redfish or spottail sea bass. Copper Shoals Red Drum is raised free of hormones and antibiotics. The light and white meat of Copper Shoals Red drum tastes mild. It has a robust texture that adapts well to many cooking methods.