Mineral Water
Spain
Vichy Catalan and Sant Aniol are the most recognized mineral waters from Spain. These waters are high in minerals, sodium and bicarbonates. A great feature on any beverage list.

vichy catalan
S1920070 · Sparkling Water · 12/1L
S1920072 · Sparkling Water · 20/500 mL
S1920074 · Sparkling Water · 24/250 mL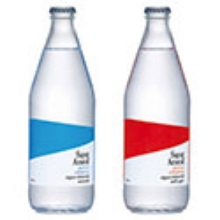 Sant Aniol
Aigua de Sant Aniol comes from a spring formed 40,000 years ago, protected by privileged land in the La Garrotxa Volcanic Park (Girona). Aigua de Sant Aniol rises to the surface from 55 meters depth after being slowly filtered over time, providing unrivalled purity. The water has low mineral content, and is believed to have many health benefits, making it recommendable for daily use and to prevent multiple ailments. It is especially recommended for children and for use in low sodium diets.
S1920100 · Sparkling Water · 12/1L
S1920110 · Sparkling Water · 15/750 mL
S1920130 · Still Water · 12/1L
S1920140 · Still Water · 15/750 mL